Archive
Wörthersee, Wörtersee - group exhibition
Kunstraum Lakeside, Klagenfurt
5th July  –  22nd September 2023
Patrícia Almeida, Maria Anwander, Daniela Comani, Josef Dabernig, Claire Fontaine, Hermann Gabler, Dora García, Irena Haiduk, Iman Issa, Ana Jotta, Marijn van Kreij, John Morgan, Kay Rosen, Hans Schabus, Lena Sieder-Semlitsch, John Stezaker, Mitchell Thar
Curated by Robin Waart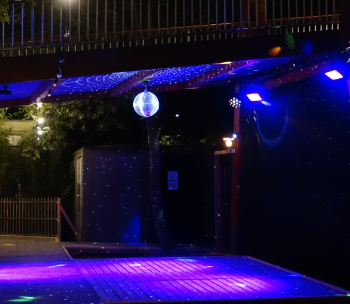 Public Dancefloor
Theater Spektakel, Zurich
17th August  –  3rd September 2023
Curated by Matthias von Hartz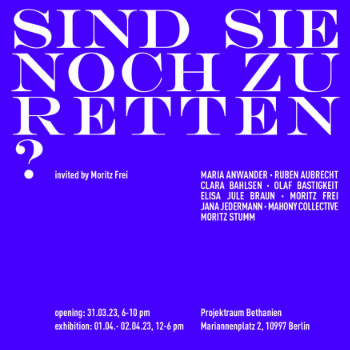 Sind Sie noch zu retten?
Projektraum Bethanien, Berlin
1st April  –  2nd April 2023
Maria Anwander, Ruben Aubrecht, Clara Bahlsen, Olaf Bastigkeit, Elisa Jule Braun, Moritz Frei, Jana Jedermann, Mahony Collective, Moritz Stumm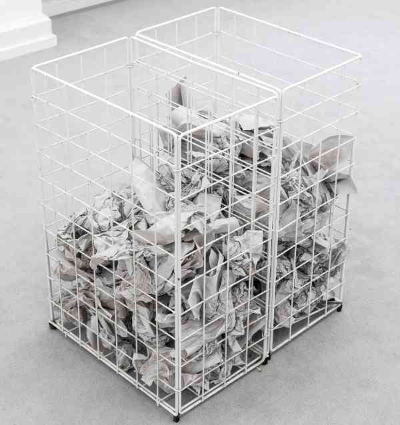 Alle
Künstlerhaus Thurn und Taxis, Bregenz
November 28, 2022 - January 8, 2023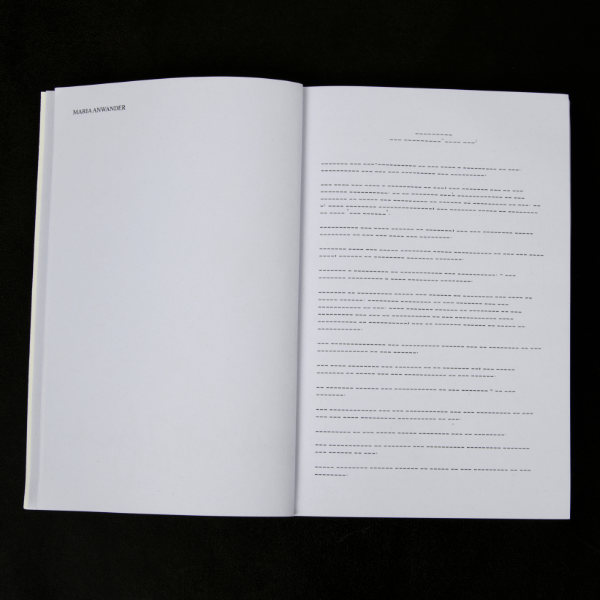 A Manifesto of Sorts
published by Fifthsyllable
Artists: Dominic Allan, Mariah Anwander, David Bellingham, Lorna Hamilton-Brown, Sara Korshøj Christensen, Caustic Coastal, Nick Davies (Loophole Projects), Charlie Duck, Daniel Eatock, The Arts Emergency, Steven Emmanuel, Mark Essen, Harrell Fletcher, Ryan Gander, Lauren Godfrey, Harry Grundy, Sam Harris, Sadie Hennessy, Jamie Holman & Alex Zawadzki (Uncultured Creatives), David Horvitz, IMT Gallery, Inglewood Centre for Contemporary Art (Jason & Lori Brown), Patrick Adam Jones, Dion Kitson, Nathaniel Pitt (Division of Labour), Tony Law, Micah Lexier, Sean McClusky, Trackie McLeod, Susan Morris, Simon Munnery, Originalprojects, Anna Reading, The Revelator, Scott Robertson, Motion Sickness, Stephen Skrynka, Trevor H. Smith, Clare Strand, Annika Ström, Milly Thompson, Demelza Watts, Russell Webb, Zembla Gallery. Epilogue written by Orion W Crane
A Manifesto of Sorts
47 artists offer their take on a Manifesto, reflecting what it is to be in the arts today.
edited by Scott Robertson
published by Fifthsyllable
110 page. soft cover
Edition of 300.
ISBN: 978-1-8383733-2-0
Avaliable through website www.fifthsyllable.co.uk or Glasgow @good_press and London @bookartbookshop
Promenadology / The World Behind Schönbrunn
Lainz / Speising, Vienna
17th September  –  30th October 2022
Curated by Alexander Felch & Paul Gründorfer
exhibition in public space
participating artists: Maria Anwander, Burlin Mud / MAHTPA, Bartosz Dolhun, Sophie Dvo?ák, Alexander Felch, Karin Ferrari, Peter Fritzenwallner, Carola Fuchs, Lisa Großkopf, Paul Gründorfer, Franz Hautzinger, Hrvoje Hiršl, Thomas Hörl, Christoph Höschele, Kisling, Adele Knall, Peter Kozek, Sebastian Meyer, Monsterfrau / Wicke-Aengenheyster, Martin Moser, Wolfgang Obermair, Karolina Preuschl, Werner Reiterer, Roter Waschsalon, Patrick Schabus, Olga Shapovalova, Anna Vasof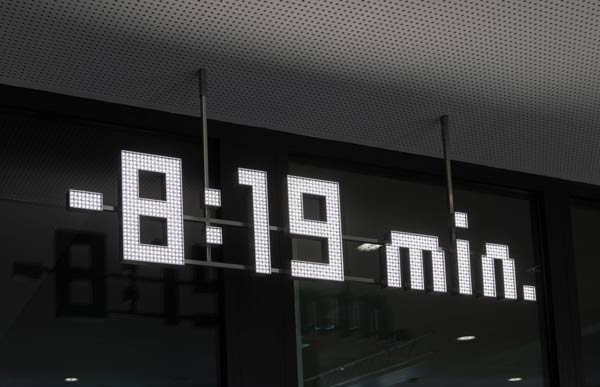 Bright Spot into the Past
Wolfgang Bochert Schule
Art in architecture, in collaboration with Ruben Aubrecht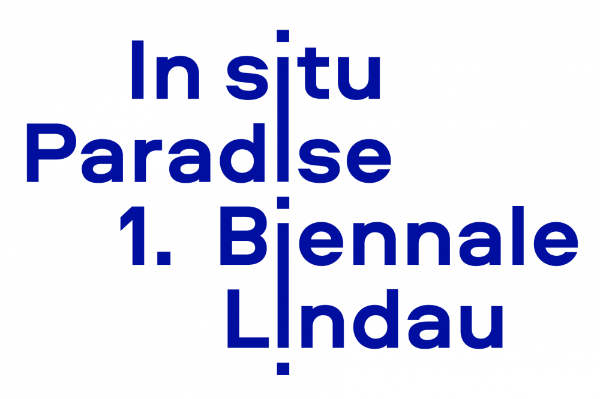 Lindau Biennale
Curated by Sophie Bombeck